tomr@aceldama.com | Home Page | Media Creations | Ray-traced Daleks
---
Ray-Traced Daleks
These images were created with POVray. The model is based on some blueprints.
---

Sample Images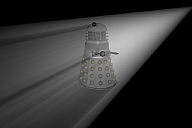 ---
Source
The POV source for the Dalek is now available! Use your browser to download your archive of choice via one of these links:
(Those of you using graphical browsers may have to hold down shift while clicking on the link to download the file; Lynx users should probably press d to download.)
Please do not hesitate to contact me if you have any questions about how to use these files.
---
tomr@aceldama.com | Home Page | Media Creations | Ray-traced Daleks