tomr@aceldama.com | Home Page | Media Creations | CSC
---
Images I've created for the U of W CSC
As a member of the U of W Computer Science Club, I have had many opportunities to make images of the CSC logo and our illustrious leader Calum T. Dalek.
---
Ray-traced images of the U of W CSC logo
This is the CSC logo. The images were created with POVray.
---
CSC Mousepad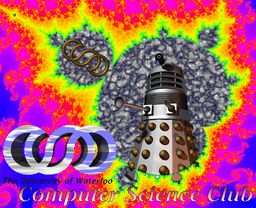 (Link to 238k JPEG)
This is a preview of the mousepad that I designed for the CSC.
---
tomr@aceldama.com | Home Page | Media Creations | CSC